ANNA BIGGINS
CAST Water Safety Foundation Assistant Director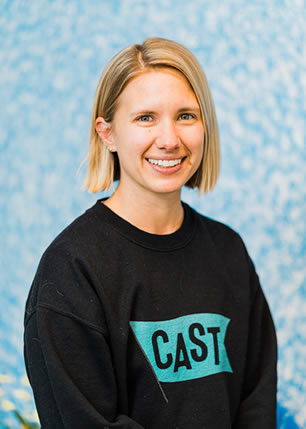 My ISR Story:
In January 2019, I enrolled my three children, Maeve, Finley and Otis, in ISR swim lessons, after many (failed) attempts at getting my kids to be water proficient through various other programs. I was inspired by Liz, who also managed ISR lessons while working full time, and traveling a long distance for lessons. My family drove one hour each way to our lessons, every day for six weeks. I was completely blown away at not only the quick progress my kids made learning how to swim, float and self-rescue, but also by their increased confidence, sense of sportsmanship, and improved behavior. My three year old son even potty-trained himself during his session, although this is not a guaranteed outcome!
I remember texting Liz one evening and saying, "I can't stop thinking about ISR and CAST." Upon which Liz told me, "If you still feel that way in a few months, let me know!" Sure enough, I knew I was ready for my next challenge – one that would combine my love of working with children and their families with helping my community and spreading awareness of ISR. I decided to take the leap, and resigned after a decade of teaching, a decision I haven't looked back on.
What I do at CAST:
I wear many hats within the CAST organization as Assistant Director, and you will find me making pool visits, taking care of scholarship applications, interacting with families, and fundraising, among many other jobs! No two days are the same, and the challenges are so worth the reward of sharing ISR with other families in the community! I am extremely excited to be a part of the CAST team, and passionate about working toward the shared mission with ISR that not one more child drowns.
Before CAST:
I have an undergraduate degree in journalism from the University of Wisconsin-Madison. Quickly after graduating, I realized that my passion was working with children. Upon moving home to Chicago, I immediately enrolled in DePaul University to receive my masters in elementary education. I landed my first (and only) teaching job in Oak Park, IL, where I now live with my family. After teaching 5th and 4th grades for eight years, I decided to take courses for my endorsement in special education, and spent my last year teaching students with special needs in grades K-2nd.
Outside of CAST:
I enjoy being active – running, cycling, doing yoga, and participating in any other group fitness class! I also have an on-going goal of reading one book a month, so send any good recommendations my way. My family loves playing outside and swimming, doing DIY and craft projects, watching sports, and listening to live music. My husband and I have been involved in raising money for Opportunity Knocks for almost a decade (we also play in their yearly softball tournament), and helped to run an annual fundraiser for ALS awareness, in honor of a family friend. We love planning events and getting people together for good causes!
Family:
Mom to Maeve (7), Finley (6), and Otis (4), and married to Donnie Biggins, master sandwich maker and harmonica player.
Favorite Quote:
"All we have to decide is what to do with the time that is given us."
2022 Goal:
I would love for CAST to reach 150 kids this year, and double our team of instructors!