WHAT IS SELF-RESCUE SWIMMING?
What is self-rescue swimming?
Self-rescue swim lessons teach children to find air and safety by turning onto their back and floating in the event of an aquatic emergency. This same skill set can be used for fun and play during swim time. Initially, self-rescue swim lessons occur daily. Since self-rescue lessons are always private 1:1 lessons with only your child and an instructor in the water, they are customized to your child's unique abilities and needs. Each private lesson lasts approximately 10 minutes and most children show mastery of their initial skills within 1-2 months. From here, continuation lessons are highly encouraged in order for children to gain confidence and keep their skills efficient with their growing bodies.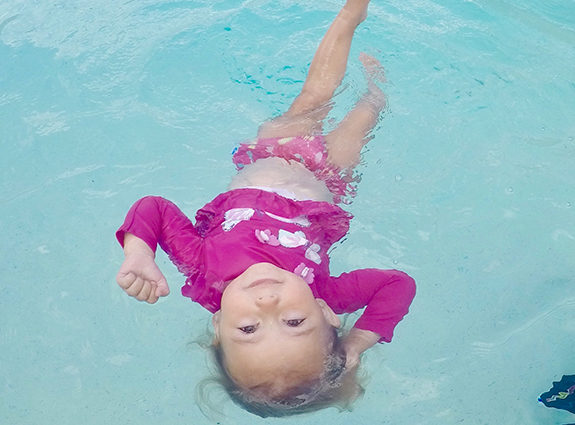 Babies 6 months and older will learn to roll back, float, and maintain this position for a period of time. Once babies begin to walk well, they learn to swim for a short distance and then either grab a wall, stair, or adult's hand. If these safety points are out of reach the child will learn to rotate to a float where they will rest and breathe. With continued practice, this process is expanded upon and children will learn to go from a floating position to continue the swim. The ultimate goal is to master the swim, float, swim process for however long it may take for the child to reach safety. If there is no pool edge or other point of safety to swim to within a reasonable distance, students learn to maintain their floats as they wait for help. After children learn to swim, float, and self-rescue in their bathing suits and without flotation device or goggles, instructors safely guide them through this process in their regular clothes. 
Why choose self-rescue swimming?
Drowning is the leading cause of death for children ages 1-4. 
Families choose self-rescue swimming because they understand that before children learn that the water is a fun place to play, they must have the skills to handle this environment independently. Reaching a body of water alone is the biggest danger that a healthy child under the age of 5 will face in their young lives. Survival skills must come before games and songs at swim lessons. Statistics show that a large majority of drowning accidents occur when kids were not expected to be swimming. This means that most kids who find their way to the water alone are fully clothed and without flotation aids or goggles. Many of these parents later reflect that their child thought water was fun, but did not have respect and understanding for the water, or the skill set to navigate it independently.
How do I find a trusted instructor?
It's important to research instructors in order to find the right fit for your family. Be sure to look for an instructor who is trained through a recognized certification program, as well as communicative, compassionate and encouraging to your child and family.
Swim with the CAST Team!
CAST supports a small but growing team of affiliate instructors. CAST-supported swim families will have the opportunity to collaborate with CAST Advocates as well as their instructors during lessons. Throughout this process, families are encouraged to create strategies to ensure the safest possible environment during both swim and non-swim times. Preview our poolside safety tips HERE!