ASHLEY CONDRON
CAST Affiliated Certified ISR Instructor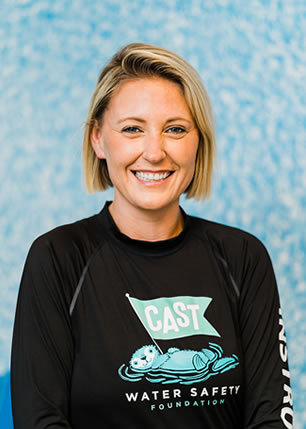 My ISR Story:
I first experienced ISR in 2018 when I brought my then 2-year-old son to ISR lessons. Ryan is an active, fearless little boy, and keeping him safe in the water by learning to self-rescue and float was what originally brought us to the lessons. What I didn't expect was the positive overflow that came along with it. As a young child with many sensory issues and delays, the structure of these lessons had a positive impact in all areas of his life that far exceeded the time he spent in the pool. Liz Huber was the one to first inform me of ISR lessons, and after experiencing it for myself first-hand I couldn't get it off my mind. After a few great conversations with Liz, I made the call that this was something I really wanted to pursue to help share this incredible gift with other parents and their children. I began my first session as a CAST supported ISR instructor in January of 2020. I'm passionate about sharing knowledge with others and am excited for this new journey as an ISR instructor.
Why CAST:
I choose CAST because it is run by women who share a vision I believe in. I felt deeply obligated to share what I learned about water safety while putting my own son through ISR lessons. It's a hard message to share, but I believe once you know the hard facts you can begin to create the best plan possible to keep the little people you love safe.  
Before CAST:
I spent the past 17 years working throughout Chicago styling hair and makeup for weddings, special events, and photo-shoots. I have had the privilege of working with some of Chicago's finest event planners and photographers. I co-own an onsite beauty company called RC Beauty and enjoy working closely with our small team on events throughout the Chicagoland area. 
Family:
Mom to Will (12), Betty (7) and Ryan (3) and wife of Brian
Outside of CAST:
I enjoy spending my free time with my husband and three kids. We love to travel as a family and spend time hanging out together at home with family and friends. I love yoga, cycling, and long walks with my youngest son. I am an avid reader and am addicted to podcasts.
Quotes to live by:
"We can't always choose the music life plays for us, but we can choose how we dance to it."
2022 Goal:
My goal is to run the Chicago Marathon for Autism Speaks!