BECKI PINCKARD
Certified ISR Master Instructor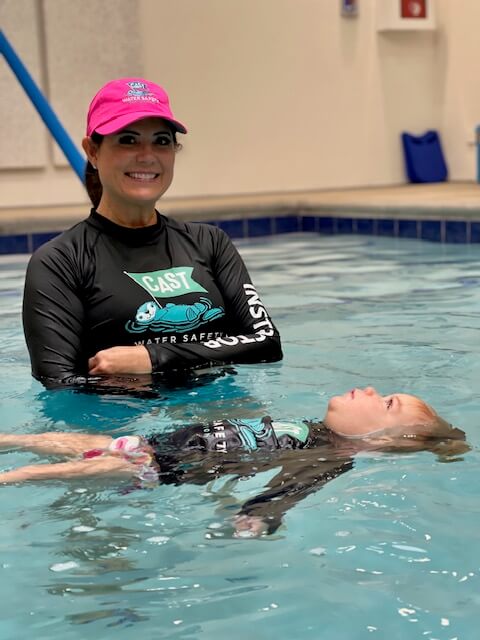 My ISR Story:
I wanted to become an Instructor after my 2 oldest children went through the program and I saw what a complete difference it made in our life! It was SO much more enjoyable to be around water and to know that my kids had the ability to save themselves should they find themselves in the water alone. I yearned for more people to know about this program. I thought the best way to do that would be to become a Certified ISR Instructor myself & to change lives one student at a time. So, that is just what I did back in August of 2000. Now, I am also a Certified Master Instructor which gives me the opportunity to train individuals from all over North America to become ISR Instructors.
Being a Master Instructor and traveling to train new Instructors is what brought me to Chicago where I met & trained CAST's Founder, Liz Huber in 2017. 
I absolutely love being an ISR Instructor & CAST Affiliate/Mentor because of the feeling that I get EACH and EVERY time I witness a student roll to their back independently. I KNOW then, that they are an aquatic problem solver and when all other barriers fail them that they will not fail themselves! I get to witness that each and every day – it NEVER gets old! It is also extremely rewarding and fulfilling when I get a call or email from a parent of one of my students in the middle of our Arizona winter telling me that their child (who has not been in lessons since last summer) fell into the freezing pool water and did EXACTLY what I taught them to do!
It is an honor to be an Instructor for the most outstanding Self-Rescue swim program in the world. I am equally as honored to be a CAST affiliate and to be able to help educate families about water safety and help provide lessons to children that otherwise may not have been able to partake in lessons.  Additionally I appreciate our program that also helps our first responders, teachers & military receive lessons at discounted rates. 
Before CAST:
After graduating high school I became a florist for 5 years.  Subsequently, after some training and a career change, I became a human resources manager for several large swimming pool & construction companies.  I continued that profession until the birth of my first child.  I became a SAHM for a few years until I found the passion (and my true calling in life) for survival swim lessons.
Outside of CAST:

I am an Arizona native. I have been married to my husband for 30 yrs. We have 4 children (2 boys, 2 girls, ages 17 through 27) and one sweet grand baby girl! 
2022 is my 22nd season teaching ISR lessons! In addition to being an ISR Master Instructor, I am also a 4-H volunteer leader and as a family we also raise and show pigs. I enjoy working out, as well as being outdoors, spending time with my kids and family. We love to travel and are very involved in our church. We have a busy, fulfilling life! 
Favorite Quote:
"All we have to decide is what to do with the time that is given us."
2022 Goal:
I would love for CAST to be nationally recognized and have at least one affiliate in every state.