LIZ HUBER
CAST Water Safety Foundation Founder & Director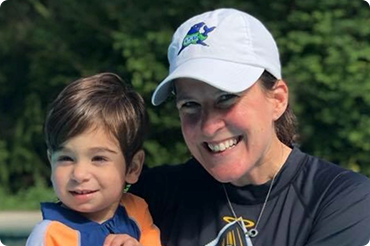 My Swim Story:
Before I became an ISR mom and then a certified instructor, I was an elementary school teacher with a background as well as passion for business and philanthropy. After our family's ISR self-rescue swim experience, I saw a window of opportunity to continue working with kids, while owning my own business and giving back to the community. Having personally experienced what it is like to go-it-alone as both an ISR swim mom and as an ISR instructor, it quickly became clear that a team approach was needed if we were to effectively increase self-rescue access in a city as large as Chicago. This inspired me to create CAST.  Our goal at CAST is to increase access to self-rescue lessons and to empower families and communities to create strong water safety strategies. What I learned in our initial ISR experience was that each day in this country, a few families lose a child to drowning.  I also learned that physical activity does absolute wonders for my girls, and that working as a team towards a big commitment taught our whole family the value of working together and believing in each other.
I am a 4th generation working mom, and I am the Founder and also the full-time Director of CAST.  Some people ask why I would do this.  I do this because I get to build something I love and care about.  I do this because I get to "work" with and learn from passionate, motivated, smart, and giving individuals, every single day.  I do this because I love my kids beyond measure but I am definitely a mom that feels that I "need" to work outside of the home. Parenthood has completely astonished me, challenged me, and pushed me to new limits. To be so responsible for little lives that are so vulnerable is beyond overwhelming. One of the most surprisingly special parts of my motherhood journey so far was seeing my girls roll to their backs, float, and breathe during their self-rescue lessons. This skill was a gift that I gave them through my choice to make a commitment, to give my time, patience, trust, and hope. Honestly, I was proud of myself for this too. I know my parenting job will never be done, and I don't expect it to ever be easy, but this experience at lessons showed me a little hint of how rewarding it is to put these little lives first and to believe in your kids to fulfill their potential.  With CAST, I get to spend my days sharing these moments, these skills and this experience that we so treasure, with other moms and dads and their children.  It simply never gets old, and special moments are more joyful when shared.  I love my "job."
Family:
Proud Mom to Scotty (7) and Abby (6) and married to my high school sweetheart, Dan.
For fun:
I am a sweatshirt loving, early morning riser and coffee enthusiast.  I appreciate the art of snail mail, love to walk, visit farmers markets, travel, and I secretly build Legos in my free time.
Community:
Board Member of the Enchanted Backpack
Adaptive Sports Advocate and Proud Member of the US Olympic and Paralympic Committee Paralympic Working Group
Before ISR and CAST:
K-5 Elementary School Classroom Teacher and Math Interventionist 2010-2017
DePaul University Masters In Elementary Education 2010
Tulane University 2008
2022 Goals: 
Expand CAST scholarship and education opportunities to new markets.
Collaborate with more leaders in the self-rescue swim industry.
Quotes to live by:
"Make your passion and work one and do it with people you want to be with." – Ray Dalio
"The only way to feel more alive is to be about something bigger than yourself." -Tony Robbins
"A ship is always safe at shore, but that's not what it's built for."-Albert Einstein